Adding User Accounts within the PM's Admin account

Upon adding and purchasing an MGT subscription type to the PM's Admin account, we can now start adding licensed user accounts for GP's and nurses to login to MGT and start using the platform.

1. Login to the PM's Admin Account and if there are currently no users created, you should be able to see this message in the middle of the platform:


2. Click on the Next Step: User Account Creation button and it will lead you to the User Management section of the platform. Then click on Add User:



You can also access the User Management section on the left-hand side of the app:
3. Upon clicking Add User, a small window will pop up that lets you enter the information regarding the 'User Account' you are trying to create: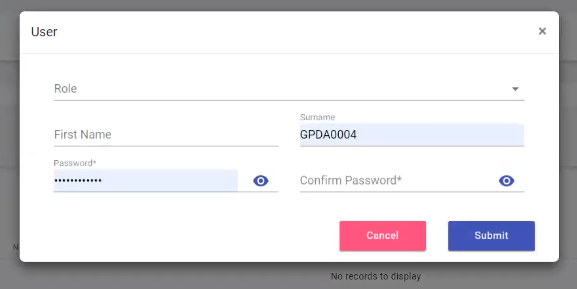 Here you can enter their Role, Full name and password and once done you can click on Submit.
This will close the window and return you back to the User Management screen where you can now see the generated User ID for this account:

NOTE: Nurse roles are free, meaning they do not make use of licenses on the subscription and only require inputting their name and password for the account. For GP roles, however, they make use of the licenses purchased with the subscription and will also require to enter the GP's Provider Number and AHPRA registration number which they can look up at the AHPRA website, https://www.ahpra.gov.au/
4. Once the user accounts have been created, you will be able to check the status of the account, and since it is newly made, the status should show active:


TIPS: On the same screen where we can find the accounts, we can also see the section on the left-hand side named Actions.

The three options under this section are:


Edit: This option lets you edit the information of the User Account. If in case the Provider number or AHRPA number under the GP role needs to be changed, you will need to contact our support team to have this manually changed.

Deactivate: This option deactivates the user account so that the license is used for it can be freed up and can then be re-used for a different User account within the PM's Admin account as needed.

Update Password: This option let you change the password of the User Account needed in cases where the user account is compromised or if the user simply forgot the password and needs a reset.

Congratulations! You have successfully added User accounts for your nurses and GP's and can now distribute these accounts to be used so that they can access the platform features moving forward.